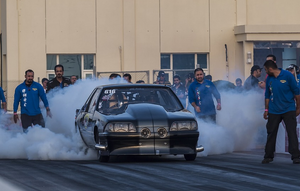 The Rising Popularity of Drag Racing in the Middle East
When you think of drag racing, your mind might immediately go to the United States, with its long history of muscle cars and quarter-mile races. But did you know that drag racing is also hugely popular in countries like Qatar, Bahrain, and the United Arab Emirates? In this article, we'll explore the world of Middle Eastern drag racing and discuss why it's become such a beloved pastime in these countries.
The Rise of Middle Eastern Drag Racing
One of the main reasons for the popularity of drag racing in the Middle East is the region's love of high-performance cars. From Lamborghinis to Ferraris, the streets of cities like Dubai and Doha are filled with some of the most powerful and exotic vehicles in the world. This passion for cars naturally extends to the drag strip, where drivers can test their skills and compete for bragging rights.
In addition, Middle Eastern countries have invested heavily in motorsports infrastructure, building state-of-the-art racetracks that are capable of hosting world-class events. The Qatar Racing Club, for example, boasts a world-class drag strip that's 1.8 kilometers long, making it one of the longest in the world. These facilities not only attract local racers but also international competitors who come to test their skills on these impressive tracks.
In Conclusion
Drag racing has become a beloved pastime in Middle Eastern countries like Qatar and Bahrain, thanks to the region's love of high-performance cars and world-class racing facilities. Whether you're a seasoned racer or a newcomer to the sport, there's never been a better time to get involved in Middle Eastern drag racing. And if you're looking for an edge on the track, consider using Rocket Track Glue to help you achieve faster times and improved performance.
---