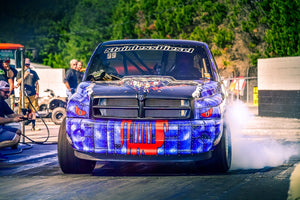 Tuning and Modifications in Drag Racing: The Key to Winning Races
Drag racing is all about speed and performance, and to achieve that, racers rely on tuning and modifications to their vehicles. Whether it's upgrading the engine, improving the suspension, or adding aerodynamic features, every modification can make a significant difference in the performance of a car on the track.
Tuning involves adjusting the engine's fuel and air mixture to maximize power and speed. Many racers use engine management systems to monitor and control the engine's performance, allowing them to make precise adjustments for optimal performance.
Modifications go beyond tuning and involve physical changes to the vehicle. For example, upgrading the exhaust system can improve airflow and increase horsepower, while adding a nitrous oxide injection system can provide a significant boost in power.
Suspension upgrades are also important in drag racing, as they can help improve traction and stability on the track. Lowering the car's center of gravity and adding stiff suspension components can help prevent wheel spin and improve the car's overall handling.
Aerodynamics is another critical factor in drag racing, and many racers add features like spoilers, air dams, and diffusers to improve the car's performance. These features can reduce drag and increase downforce, providing more traction and stability on the track.
All these modifications require a significant amount of knowledge and expertise to execute correctly, and that's where the help of professionals comes in. Tuning and modification shops can provide racers with the expertise they need to get the most out of their vehicles.
In conclusion, tuning and modifications are crucial for any racer looking to win in drag racing. From engine upgrades to suspension improvements and aerodynamic features, every modification can make a significant difference in the car's performance on the track. And with products like Rocket Track Glue and Rocket Prep, racers can take their performance to the next level and achieve better results on the drag strip.
---